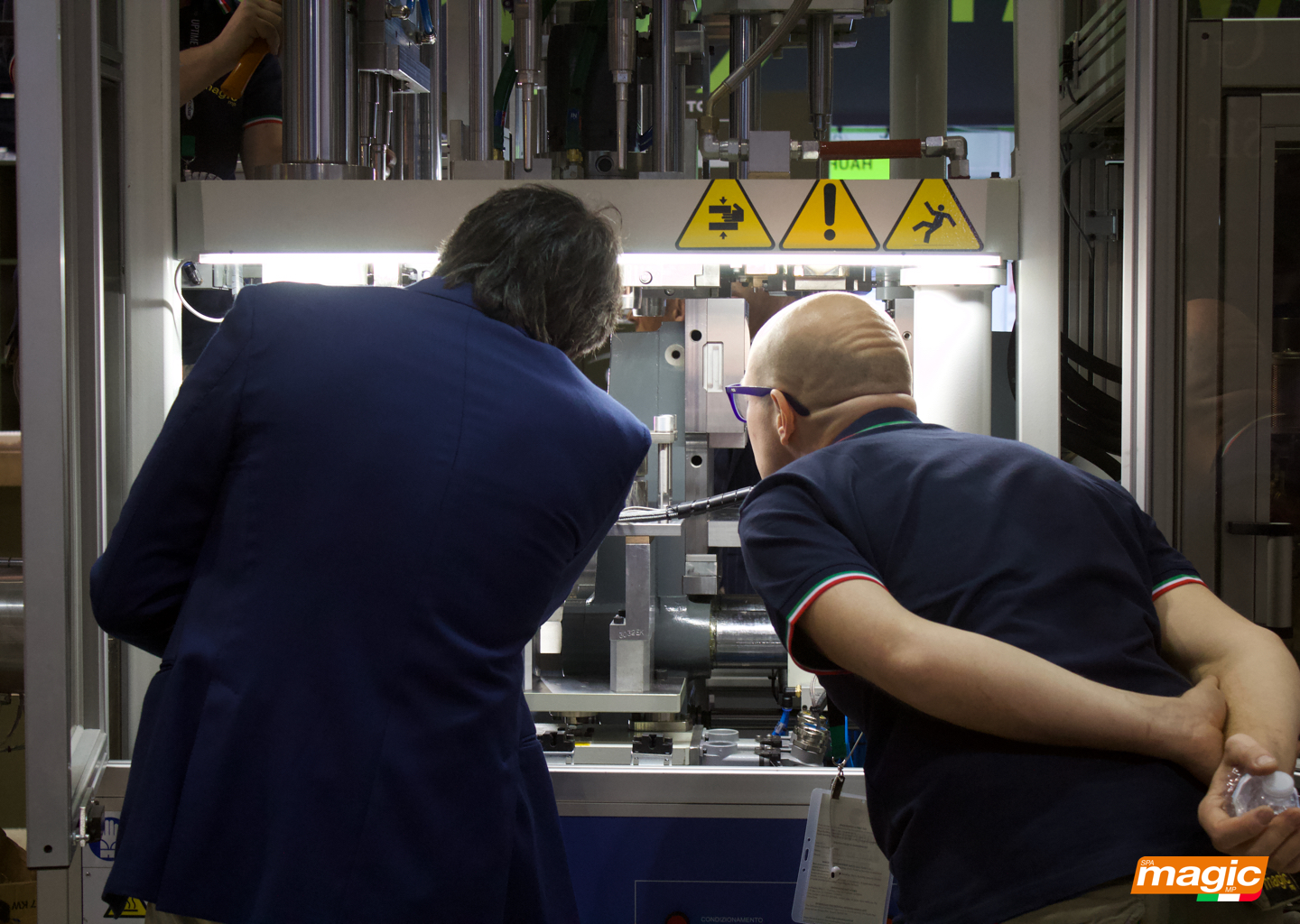 Magic is an Italian company worldwide leader in BLOW MOULDING MACHINE MANUFACTURE founded in 1959.
Magic has been the first Blow Moulding machine manufacture company in developing All-Electric machine starting 22 years ago (1997) and today we can count more than 1,200+ electric machines delivered and in production worldwide with 20 different models, in total delivered more than 6,000 machines worldwide.
All-Electric machine range goes from small size (single and double station) to long stroke with multi cavities configuration (up to 1,600 mm carriage stroke and 65 US Tons clamping force), with top quality components 100% made in Italy and Europe.
Thanks to the 3rd generation of Magic All-Electric machine (Model ME), we are proud to have received from EUROMAP (the most important European Organization for Energy Consumption) the certification for high energy efficiency.
The Magic machine offer up to 50% less energy consumption and 70% less maintenance cost respect a hydraulic machine.
Magic manufacture:
All-Electric Extrusion Blow Molding machine.
All-Electric Injection Stretch Blow Molding machine.
All-Electric Injection Blow Molding machine.
1997 – All-Electric machine
The first All-Electric machine, "Baby Electric" (now ME 100/D), was brought into the market, mainly for small pharmaceutical and cosmetic containers, generating a huge deal of interest, especially among companies manufacturing their products in sterile rooms.
2005 – Hybrid machine
The historic success achieved with the hydraulic MG series, in the 1970s, 1980s and 1990s, and the experiences made with the electric EP series, made it possible for MAGIC MP to develop and introduce hybrid technology, "IB" series (electro-hydraulics), with models ranging from 500ml to 30L.
This series was also made available with "ND" and "D" versions, long stroke up to 1,000 mm, multi-cavity, max. clamping force 300 kN for manufacturing stackable containers up to 30L.
2006 – 3rd gen. All-Electric machine
Due to the growing market demand, to provide small (e.g. up to 3-5L), simple and, above all, "cheap" electric machines compared to the EP series, Magic achieved one more goal, introducing the "ME" series, from the world's smallest (and fastest), ME 100/D, to medium-size ME L5.
The versions available were the same as the other series, namely "ND" and "D"; long stroke up to 520 mm; max. clamping force 120 kN.
2011 – Long stroke and high tonnage machine
This proved one more crucial year for Magic, since we introduced the long-stroke machines of the "ME-LS" series. Obviously enough, these are electric machines, as we pioneered this technology of the future, in which we firmly believe.
New building and processing solutions are expected to be developed, and new investments made in equipment for our factories, with a view to maintaining a high quality standard for our blow-moulding machines, and maximizing their flexibility and performance.
2016 – The new Model MTM machine
After the extensive experience made with the full-electric extrusion blow molding machines and the huge experience made with the single-stage injection stretch blow molding machines, we are pleased to introduce the first mechatronic machine; this is a name that initially intrigues and that could not be more appropriate!
The machine has been carefully developed by our designers in order to meet the needs of our current and future customers, giving the opportunity to buy from us machines of simple concept, combined with an affordable price in relation to quality and technology offered through components and manufacturing totally made in Europe.
2019 – The new Model ISE machine
ISE 150 machine is dedicated to the production of small and medium-size containers, normally used in the pharmaceutical, cosmetic and food sectors, where the need for non-contaminating machines will soon increase in this market, as already happened in the blow moulding extrusion technology.
The system, being electric, will obviously have a very low consumption. The forecast for the total average consumption of the whole machine is expected to be around 4-5 Kw per hour. This will bring not only the well-known advantages of All-Electric technology but it will also offer advantages to the users that were unimaginable up to now, such as the cost of the moulds. In fact the machine will not have the mobile preform injection moulds, but will use a preform technology similar to the one already used in Magic's PET machines.
Very low total consumption and consequently a reduction in the costs of the finished product (especially on small containers it can make quite a significant difference on the final cost), reliability of the movements, reduced noise, less spare parts (at least 60% less compared to the ones normally used for hydraulic machines of this type) and, as already mentioned, the possibility of working with "safe" machines, non-contaminating and also intended for clean rooms.
Last but not the least, there is the non-negligible advantage of the cost of this machine, which is expected to be at least 30% lower than the standard injection-blowing machines, both hydraulic and electric.