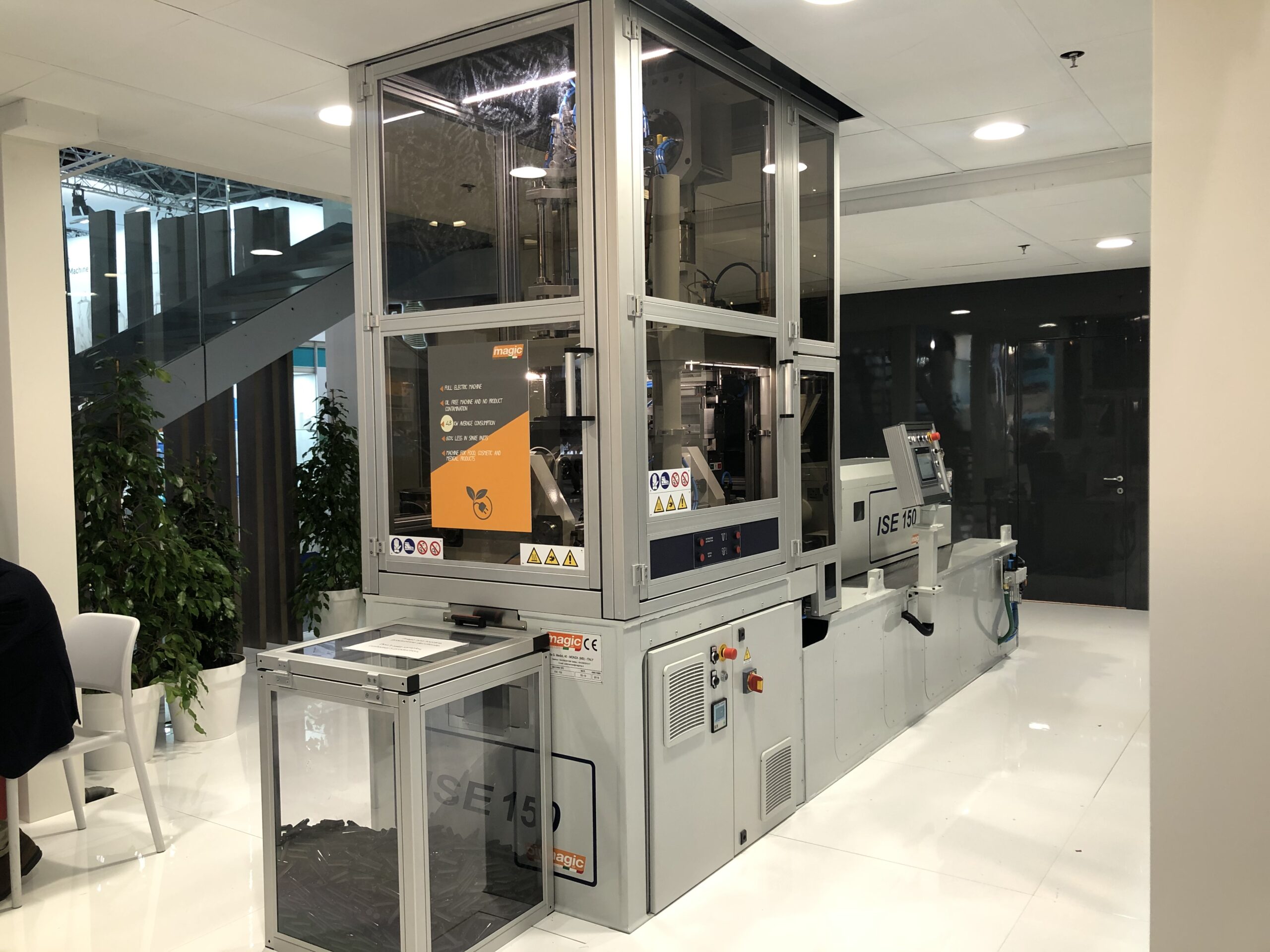 This new project originates from the need to satisfy the requests of the market and has led Magic to invest in the development, as well as in the research for alternative technologies compared to the old concepts of injection-blowing machines.
ISE 150 machine is dedicated to the production of small and medium-size containers, normally used in the pharmaceutical, cosmetic and food sectors, where the need for non-contaminating machines will soon increase in this market, as already happened in the blow moulding extrusion technology.
The system, being electric, will obviously have a very low consumption. The forecast for the total average consumption of the whole machine is expected to be around 4-5 Kw per hour. This will bring not only the well-known advantages of Full Electric technology but it will also offer advantages to the users that were unimaginable up to now, such as the cost of the moulds. In fact the machine will not have the mobile preform injection moulds, but will use a preform technology similar to the one already used in Magic's PET machines.
Very low total consumption and consequently a reduction in the costs of the finished product (especially on small containers it can make quite a significant difference on the final cost), reliability of the movements, reduced noise, less spare parts (at least 60% less compared to the ones normally used for hydraulic machines of this type) and, as already mentioned, the possibility of working with "safe" machines, non-contaminating and also intended for clean rooms.
Nowadays we often talk about renewable technologies, but no one has ever assessed that many of the products intended for the pharmaceutical and food industries are still manufactured with hydraulic machines that could at any time contaminate a production, with catastrophic results on the final product that we can all easily imagine.
Last but not the least, there is the non-negligible advantage of the cost of this machine, which is expected to be at least 30% lower than the standard injection-blowing machines, both hydraulic and electric.